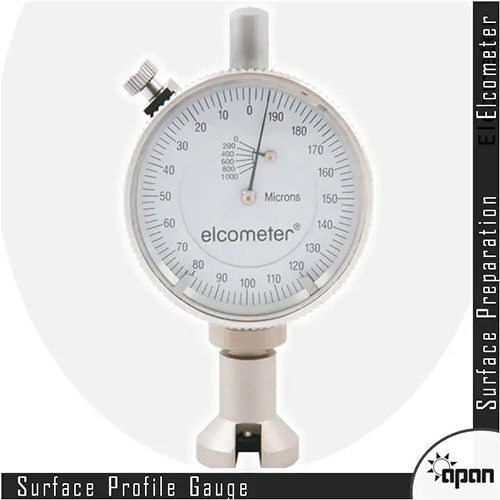 Surface Profile Gauge
Product Description
As a Authorized dealer we are engaged in providing the broad assortment of Elcometer Coating Inspection Equipments..

Surface profile: The degree of profile on the surface affects a coatings overall performance and determines aspects such as adhesion, coverage and overall volume of coatings used. If the profile is too large the amount of coating required increases, otherwise there is a danger that the peaks remain uncoated - allowing rust spots to occur. If the profile is too sm

Elcometer 123 Surface Profile Gauge

The Elcometer 123 Surface Profile Gauge is an easy to use analogue gauge which measures the peak-to-valley height of a blast cleaned surface in a similar way to the Elcometer 224 Digital Surface Profile Gauge.

Metric and Imperial versions available.

USING A SURFACE PROFILE GAUGE
Ensure that the gauge is set to zero before taking any measurements, thus: loosen the clamp locking screw, allowing the knurled bezel with the scale to rotate; place the gauge on the glass slide provided; turn the bezel until the pointer is aligned to zero; re-tighten the clamp screw.

Place the gauge on the surface to be measured. The spring-loaded tip is projected into the valley and the depth is indicated on the dial in microns or mils, according to the scale. See diagrams opposite.

To obtain a representative value of peak-to-valley height, a number of readings (at least 10) should be taken on a given surface area and the average obtained.

When evaluating the results, it must be remembered that the instrument reads from the three maximum peaks under the foot.

Under normal conditions of use, the zero setting of the gauge will not change if the bezel is locked. If, however, a shift in zero is noted, this is an indication of a worn or damaged tip, which should be replaced.
| | |
| --- | --- |
| Range | 0 - 1000µm (0 - 40mils) |
| Scale | 2µm (0.1 mil) |
| Dimensions | 105 x 55 x 25mm (4.1 x 2.2 x 1) |
| Weight | 335g (8oz) |
Contact Us
301, Pacific Plaza, VIP Road, Kareli Baugh, Vadodara, Gujarat, 390018, India
Phone :+918037401114