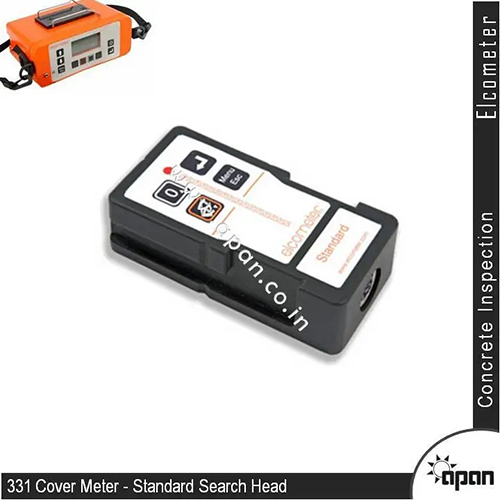 Rebar Cover Meter Accessories
Product Description
As a Authorized dealer we are engaged in providing the broad assortment of Elcometer, UK make 'Concrete Inspection' Equipments.
Concrete Inspection
Concrete structures are normally constructed using steel reinforcement and Elcometer offers Concrete Covermeters and Rebar Locators to either measure the depth of concrete over the rebar or simply to detect the rebar under the surface. Half-cell versions of the Covermeter can be used to assess the probability that corrosion is taking place on the rebar. Test Hammers are used to assess the surface hardness of cured concrete and Elcometer offers several moisture meters that can be used to determine if the structure is sufficiently dry for coating.
Adhesion testers for coating on concrete are available using either hand-operated mechanical methods or the automatic hydraulic method.
Covermeters & Half-Cell Meters
Accessories
Standard Search Head
Design to meet most of your measurement requirements.
Narrow Pitch Search Head
Accurately measures the cover thickness when the gaps (pitch) between each of the rebars are close together.
Deep Cover Search Head
The ideal search head for accurately measuring rebars that are deep within the structure.
Dual Search Head for high tensile and stainless steels
The search head specifically designed to locate high tensile and stainless steel.
Half-Cell Kit
Consisting of either a copper electrode in a copper sulphate solution or a silver electrode in a silver chloride solution, each half cell is a sealed unit - no need to mix chemicals. Supplied with a 25m / 80' cable, every half-cell probe is guaranteed for 5 years.
Verification Block
The verification block allows the user to check the calibration of their gauge in order to ensure maximum measurement accuracy.
Extension Arm Kit
This kit allows the user to scan bridge decks and floor areas using the hand-held search heads from a standing position. Both the standard or narrow pitch search head can be attached to the extension arm.
Borehole Probe
The solution for locating tendon ducts and multiple layers of rebar lying deep within the concrete.
Contact Us
301, Pacific Plaza, VIP Road, Kareli Baugh, Vadodara, Gujarat, 390018, India
Phone :+918037401114