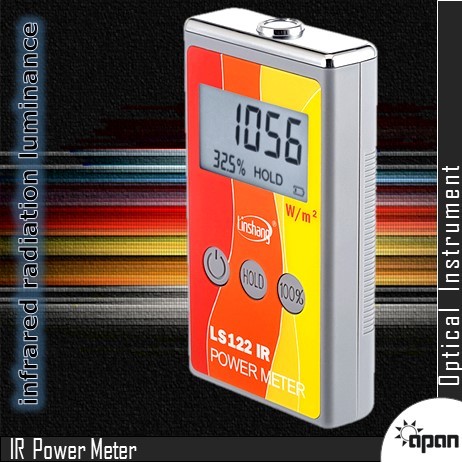 IR Power Meter
Product Code : Apan-OPIRPM-1
Product Description
As an Authorized dealer we are engaged in providing the broad assortment of "Test and measurement Instruments" for wide gamut of applications.
Infrared Power meter is used for measuring the optical power density of infrared ray and automatically calculate the IR transmission value.
Infrared power meter is an infrared power measuring instrument, which is used for measuring the infrared radiation luminance. Its unit is Watt persquare meter (W/m2).
Specification:
1. Irradiance measuring range: 0 -40000 W / m2
2. Accuracy: ± 10%
3. Relative intensity: 0 - 9999%
4. Spectral range: λ (1000-1700 nm); λp = 1400 nm
5. Detector Diameter: ¢ 10mm
6. Dimensions: 125mm × 69mm × 24.5mm (L× W × H)
7. Weight: around 140 grams (includingbattery)
8. Operating temperature: -20 ° C --- +70 ° C
9. Power supply: 4 pieces of AAAalkaline batteries
Feature:
1. 2 measurement parameters in one instruments :
IR transmission meter
IR power meter
2. Evaluating heat-insulating property of the...
Tint of windows
solar films
Glass
Other transparent materials
3. Measuring optical power density of infrared ray, wavelength response (1000nm 1700nm), gives visual and reliable result
Contact Us
301, Pacific Plaza, VIP Road, Kareli Baugh, Vadodara, Gujarat, 390018, India